A food stall in Portland, Oregon, USA that has found great success selling "authentic Chinese wraps" is now coming under fire by Chinese media and netizens for "stealing Chinese culture".
Alisa Grandy, the founder of the Bing Mi! food stall, became successful after she learned the "secret technique" of making jianbing, a popular street food in China that is like a folded egg crepe containing meats and a crunchy fried center. Grandy is reported to have "stolen" this part of Chinese culture after a visit to Tianjin last year.
She's selling the jianbing for $6, approximately six times what it costs in China.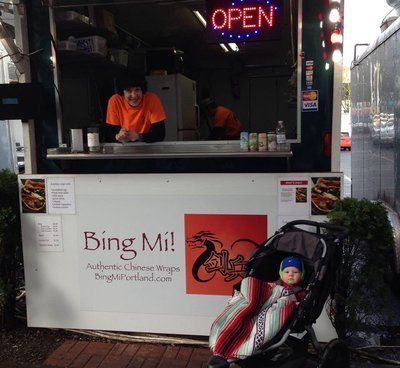 Bing Mi! has become a sensation in the food community in Portland, drawing wide acclaim from local media that call it "funky and flavorful", "Asia's breakfasty answer to the Crunchwrap Supreme", and "flat-out fantastic".
Some Chinese netizens have been criticial of Grandy's success, though. "So "How is it that US citizens don't care about intellectual property rights in this case?"how is it that US citizens don't care about intellectual property rights in this case?" one person asked, with another adding: "I'm guessing the sweet fermented sauce has been swapped out with ketchup and salad dressing."
Other netizens had a different take on the spread of Chinese culture abroad. "So… yet another intangible cultural heritage of China has been taken out of the country. Should I go abroad and sell baked sweet potatoes?" And then another netizen poetically wrote, "The flower blooms inside the wall, but it is most fragrant outside it."
On her website, Grandy writes that she was inspired to make and sell jianbing after a trip to Beijing, but that she learned how to make them from YouTube.
A similar story occurred in 2014 when a Seattle woman with her own jianbing food stall called "Bing of Fire" was also accused of stealing Chinese culture. The woman had been teaching English in Huzhou, Zhejiang for a year and a half when she finally learned how to make jianbing after having "endured grueling research".
A jianbing shop also closed in Hong Kong last year. It was selling jianbing for HK$48, even more expensive than Grandy's.